REQUIRED UNITS
196 Recruit [-196]
480 Bowman [-480]
920 Mounted Swordsman [-920]
1.084 Knight [-925]
285 Mounted Marksman [-30]
125 Armored Marksman
185 Besieger
REQUIRED SKILLS
270
NUS
VAR
ANS
Juggernaut 1/3
Overrun 3/3
Unstoppable Charge 3/3
Battle Frenzy 1/3
Garrison Annex 3/3
Master Planner 1/1
Rapid Fire 3/3
Juggernaut 2/3
Overrun 3/3
Unstoppable Charge 3/3
Garrison Annex 3/3
Master Planner 1/1
Juggernaut 3/3
Battle Frenzy 3/3
Garrison Annex 3/3
Weekly Maintenance 2/3
Master Planner 1/1
REQUIRED RESOURCES
100

Quests in Adventure:
Mission Name
Mission Description
Agitated Wildlife
Defeat all Wildlife Leader Caves Camps.
Operation
Collect 5 Ore
Fill the wolf's stomach with Heavy STones
Relaxing Tea
Collect 5 Heart Fruit
Give Grandma a Relaxing Tea.
Payback Time
Defeat all Dark Cult Leaders Camps
Royal Clash
Defeat the Evil Queen!
Buffs in Provision House:
Appearance
Name
Costs
Production Time
Provision House
Rarity Provision House
Heavy Stones
5 =

Level 1 – 05:00 minutes
Level 2 – 02:30 minutes
Level 3 – 01:40 minutes
Level 4 – 01:15 minutes
Level 5 – 01:00 minute
Level 6 – 00:50 seconds

Relaxing Tea
100 + 5 =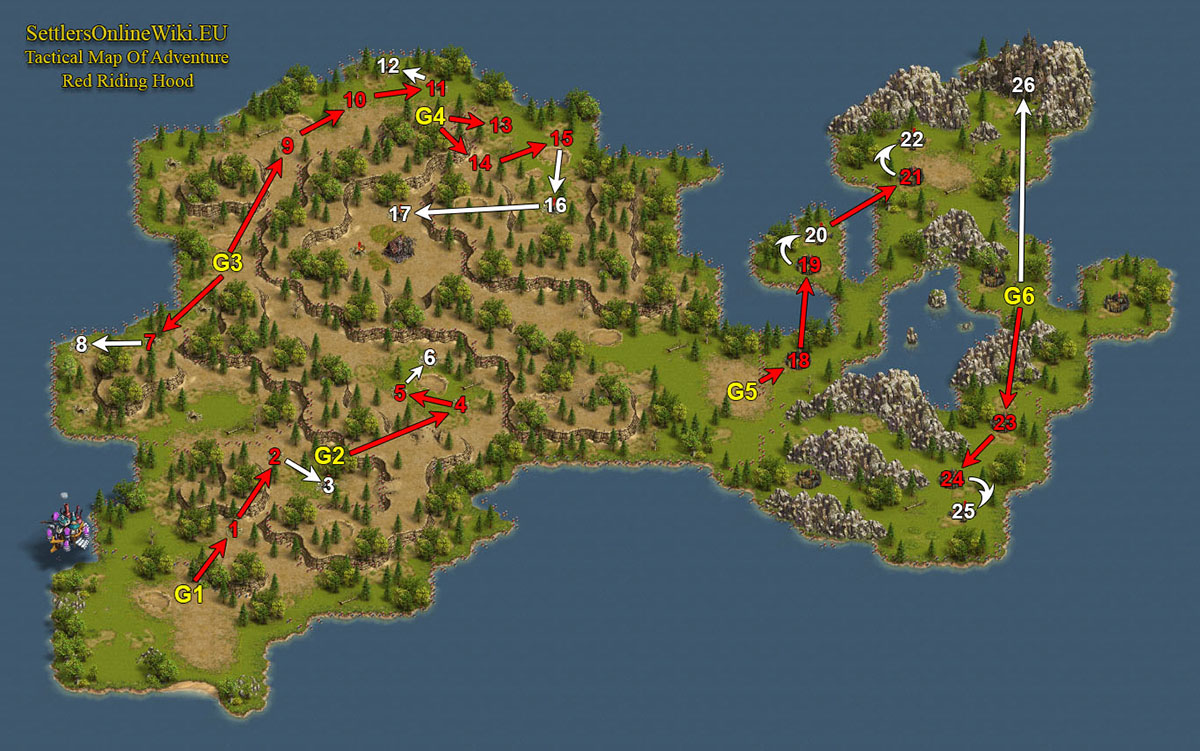 In order to avoid losing of 477 Knights, use catapults on camp 5 (Small Catapult) and 19 (Big Catapult)
Garrison
Camp
Units in Camp
Our Units
G1
1
200 Fox, 150 Wolf Packleader
1 wave (VAR) 29 Mounted Swordsman, 166 Mounted Marksman [losses: 29MS]
G1
2
150 Boar, 100 Wolf Packleader
1 wave (270) 285 Mounted Marksman [losses: 0]
G1
3
200 Wolf Packleader, 150 Boar,
50 Giant, Giant Bogor
1 wave (270) 19 Mounted Swordsman, 266 Mounted Marksman [losses: 19MS]
G2
4
400 Boar
1 wave (270) 27 Mounted Swordsman, 258 Mounted Marksman [losses: 27MS]
G2
5
300 Fox, 250 Wolf Packleader
1 wave (270) 230 Knight, 55 Besieger [losses: 148K]
G2
6
150 Bear, 100 Wolf Packleader,
150 Fox, Furious Boar
1 wave (270) 88 Mounted Swordsman, 81 Knight, 116 Besieger [losses: 88MS, 81K]
G3
7
200 Wolf, 150 Bear
1 wave (270) 285 Mounted Marksman [losses: 0]
G3
8
200 Wolf Packleader, 100 Bear,
Unicorn, Furious Boar
1 wave (270) 4 Mounted Swordsman, 281 Mounted Marksman [losses: 4MS]
G3
9
200 Boar, 100 Fox, 100 Bear
1 wave (270) 68 Mounted Swordsman, 51 Knight, 166 Besieger [losses: 68MS, 51K]
G3
10
150 Fox, 150 Wolf, 150 Wolf Packleader
1 wave (270) 285 Knight [losses: 75K]
G3
11
150 Bar, 150 Fox, 100 Bear
1 wave (270) 55 Mounted Swordsman, 75 Knight, 155 Besieger [losses: 55MS, 75K]
G3
12
200 Giant, 100 Bear, Furious Boar
1 wave (270) 30 Mounted Swordsman, 125 Armored Marksman, 130 Mounted Marksman [losses: 30MS]
G4
13
200 Wolf Packleader, 100 Wolf, 100 Bear
1 wave (ANS) 150 Bowman
2 wave (270) 285 Mounted Marksman [losses: 150Bow]
G4
14
300 Bear
1 wave (270) 45 Mounted Swordsman, 240 Mounted Marksman [losses: 45MS]
G4
15
300 Bear
1 wave (270) 45 Mounted Swordsman, 240 Mounted Marksman [losses: 45MS]
G4
16
200 Boar, 100 Wolf Packleader, 150 Giant,
Giant Gogor, Giant Bogor
1 wave (NUS) 165 Bowman
2 wave (270) 43 Mounted Swordsman, 242 Mounted Marksman [losses: 43MS, 165Bow]
G4
17
200 Bear, 50 Wolf, 50 Giant, 50 Wolf Packleader
1 wave (270) 75 Mounted Swordsman, 210 Mounted Marksman [losses: 75MS]
G5
18
150 Royal Militia, 150 Royal Recruit
1 wave (270) 37 Mounted Swordsman, 248 Mounted Marksman [losses: 37MS]
G5
19
200 Royal Cavalry, 100 Royal Recruit,
100 Royal Bowman, 100 Royal Longbowman
1 wave (MMA) 220 Knight
2 wave (270) 285 Knight [losses: 319K]
G5
20
150 Royal Militia, 100 Royal Cavalry,
Royal Captain
1 wave (270) 50 Mounted Swordsman, 50 Knight, 185 Besieger [losses: 50MS, 50K]
G5
21
250 Royal Longbowman, 100 Royal Cavalry
1 wave (270) 285 Knight [losses: 50K]
G5
22
200 Royal Recruit, 200 Royal Militia,
Assassine, Iron Fist
1 wave (VAR) 195 Recruit
2 wave (270) 76 Mounted Swordsman, 209 Mounted Marksman [losses: 76MS, 30MM, 195Re]
G6
23
150 Royal Militia, 150 Royal Cavalry
1 wave (270) 41 Mounted Swordsman, 76 Knight, 168 Besieger [losses: 41MS, 76K]
G6
24
200 Royal Recruit, 175 Royal Militia
1 wave (270) 75 Mounted Swordsman, 210 Mounted Marksman [losses: 75MS]
G6
25
175 Royal Militia, 100 Royal Recruit,
50 Royal Cannoneer, Royal Juggernaut
1 wave (270) 72 Mounted Swordsman, 213 Mounted Marksman [losses: 72MS]
G6
26
250 Royal Militia, 150 Royal Longbowman,
Ilsebille The Evil Queen
1 wave (NUS) 165 Bowman
2 wave (ANS) 1 Recruit
3 wave (270) 41 Mounted Swordsman, 244 Mounted Marksman [losses: 41MS, 1Re, 165Bow]