REQUIRED UNITS
2x 2x
18xBig Catapult
3xBallista
3xAssassin
125 Recruit [-125]
1.200 Mounted Swordsman [-829]
800 Knight [-252]
500 Armored Marksman
660 Mounted Marksman
270 Besieger
REQUIRED SKILLS
GEM
BRS / SYL
VAR
STF
YGG
Juggernaut 3/3
Overrun 3/3
Unstoppable Charge 3/3
Battle Frenzy 2/3
Garrison Annex 3/3
Master Planner 1/1
Juggernaut 3/3
Overrun 3/3
Unstoppable Charge 3/3
Garrison Annex 3/3
Master Planner 1/1
Juggernaut 2/3
Overrun 3/3
Unstoppable Charge 3/3
Garrison Annex 3/3
Master Planner 1/1
Juggernaut 1/3
Overrun 3/3
Unstoppable Charge 3/3
Battle Frenzy 1/3
Garrison Annex 3/3
Master Planner 1/1
First Aid 3/3
Juggernaut 3/3
Garrison Annex 3/3
1-Up 1/1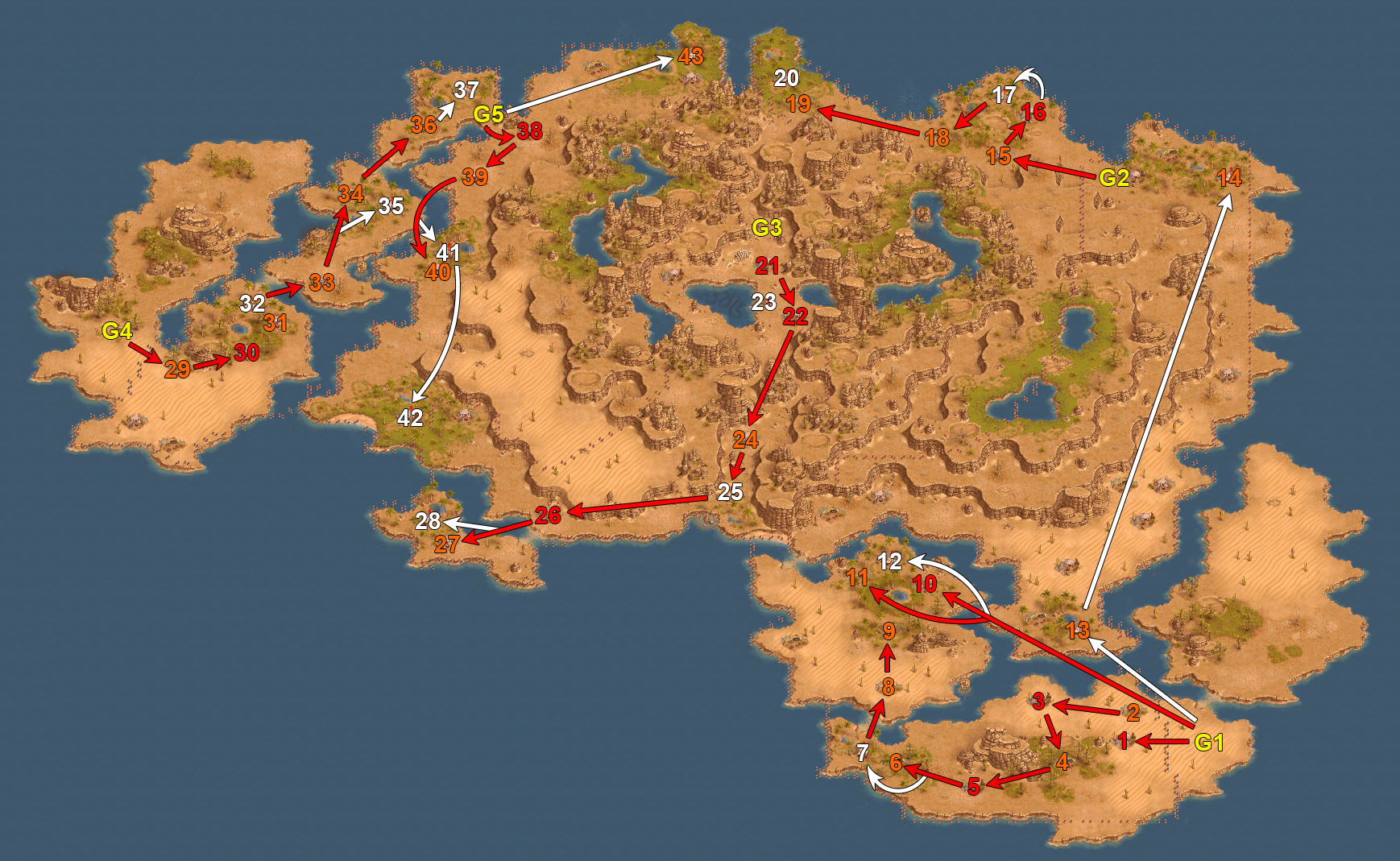 A guide created to complete the achievement (complete the adventure less than 1 hour)
I recommend activate the Observatory and the Mystical Horseshoes in the adventure.
We send the generals one by one, keeping spaces. The adventure time is about 40 minutes.
After starting the adventure, apply all Catapults, Ballistaes and Assassins immediately.
One Older Gemini, Vargus and one Steadfast send to G4 and attack from behind, after destroing G2, we send Boris to G5.
Garrison
Camp
Enemy Units
Our Attacks
G1
1
180 Battle Hardened Sailor, 50 Boatswain, 40 Mounted Sailor
1 wave (STF) 38 Mounted Swordsman, 197 Knight [losses: 38MS, 31K]
G1
2
150 Petty Officer, 120 Cannon Master
1 wave Big Catapult
G1
3
200 Sword Clasher, 70 Horseman
1 wave (BRS) 14 Mounted Swordsman, 181 Mounted Marksman [losses: 14MS]
G1
4
200 Battle Hardened Sailor, 40 Petty Officer, 30 Boatswain
1 wave Big Catapult
G1
5
270 Mounted Sailor
1 wave (SYL) 36 Mounted Swordsman, 159 Mounted Marksman [losses: 36MS]
G1
6
150 Battle Hardened Sailor, 100 Boatswain, 20 Mounted Sailor
1 wave Big Catapult
G1
7
100 Battle Hardened Sailor, 100 Mounted Sailor, 70 Petty Officer, Captain
1 wave (YGG) 125 Recruit
2 wave (GEM) 35 Mounted Swordsman, 260 Mounted Marksman [losses: 35MS, 125Re]
G1
8
270 Cannon Master
1 wave Big Catapult
G1
9
200 Battle Hardened Sailor, 70 Mounted Sailor
1 wave Big Catapult
G1
10
100 Mounted Sailor, 100 Boatswain, 40 Sailor, 30 Cannon Master
1 wave (BRS) 13 Mounted Swordsman, 182 Knight [losses: 13MS, 31K]
G1
11
70 Battle Hardened Sailor, 200 Cannon Master
1 fala Big Catapult
G1
12
70 Battle Hardened Sailor, 200 Mounted Sailor, Captain
1 wave (SYL) 61 Mounted Swordsman, 134 Mounted Marksman [losses: 61MS]
G1
13
270 Cannon Master, Steersman
1 wave Ballista
2 wave Assassin
G1
14
250 Boatswain, Captain
1 wave Ballista
2 wave Assassin
G2
15
100 Battle Hardened Sailor, 100 Boatswain, 70 Sailor
1 fala Big Catapult
G2
16
100 Boatswain, 170 Cannon Master
1 wave (BRS) 195 Knight [losses: 30K]
G5
17
200 Boatswain, Steersman, Mutineer
1 wave (STF) 95 Knight
2 wave (GEM) 26 Mounted Swordsman, 269 Armored Marksman [losses: 26MS, 95K]
G5
18
200 Battle Hardened Sailor, 70 Mounted Sailor
1 fala Big Catapult
G2
19
200 Battle Hardened Sailor, 20 Petty Officer, 50 Cannon Master
1 fala Big Catapult
G2
20
200 Mounted Sailor, Captain, Mutineer
1 wave (SYL) 47 Mounted Swordsman, 148 Mounted Marksman [losses: 47MS]
G3
21
270 Sword Clasher
1 wave (SYL) 195 Mounted Marksman [losses: 0]
G3
22
190 Battle Hardened Sailor, 90 Mounted Sailor
1 wave (SYL) 35 Mounted Swordsman, 160 Mounted Marksman [losses: 35MS]
G3
23
150 Battle Hardened Sailor, Mutineer, Captain, Giant Sea Snake
1 wave (GEM) 66 Mounted Swordsman, 229 Armored Marksman [losses: 66MS]
G3
24
90 Sailor, 150 Mounted Sailor, 30 Petty Officer
1 fala Big Catapult
G3
25
100 Battle Hardened Sailor, 150 Cannon Master, Captain
1 wave (GEM) 42 Mounted Swordsman, 150 Armored Marksman, 103 Mounted Marksman [losses: 42MS]
G3
26
270 Boatswain
1 wave (SYL) 195 Mounted Swordsman [losses: 32MS]
G3
27
200 Battle Hardened Sailor, 50 Petty Officer, 20 Mounted Sailor
1 fala Big Catapult
G3
28
150 Sailor, 100 Cannon Master, Steersman
1 wave (SYL) 14 Mounted Swordsman, 181 Mounted Marksman [losses: 14MS]
G4
Behind
Send here Older Gemini General, Vargus and Steadfast General
G4
29
120 Sword Clasher, 50 Horseman, 100 Desert Marksman
1 fala Big Catapult
G4
30
250 Battle Hardened Sailor
1 wave (GEM) 30 Mounted Swordsman, 265 Mounted Marksman [losses: 30MS]
G4
31
150 Mounted Sailor, 100 Boatswain
1 fala Big Catapult
G4
32
100 Mounted Sailor, 100 Boatswain, 70 Petty Officer, Steersman
1 wave (VAR) 75 Mounted Swordsman, 120 Besieger [losses: 75MS]
G4
33
250 Mounted Sailor
1 fala Big Catapult
G4
34
270 Sailor
1 fala Big Catapult
G4
35
150 Battle Hardened Sailor, 100 Petty Officer, Mutineer
1 wave (STF) 55 Mounted Swordsman, 180 Mounted Marksman [losses: 55MS]
G4
36
200 Sailor, 40 Petty Officer, 30 Boatswain
1 fala Big Catapult
G4
37
150 Battle Hardened Sailor, 100 Boatswain, Captain
1 wave (GEM) 86 Mounted Swordsman, 65 Knight, 144 Besieger [losses: 86MS, 65K]
G5
38
100 Sailor, 90 Mounted Sailor, 70 Petty Officer
1 wave (BRS) 13 Mounted Swordsman, 182 Mounted Marksman [losses: 13MS]
G5
39
200 Battle Hardened Sailor, 250 Boatswain
1 fala Big Catapult
G5
40
90 Mounted Sailor, 90 Boatswain, 90 Cannon Master
1 fala Big Catapult
G5
42
100 Battle Hardened Sailor, 150 Mounted Sailor, Captain
1 wave (BRS) 64 Mounted Swordsman, 131 Mounted Marksman [losses: 64MS]
G5
42
70 Sailor, 200 Mounted Sailor, Mutineer
1 wave (BRS) 47 Mounted Swordsman, 148 Mounted Marksman [losses: 47MS]
G5
43
250 Cannon Master, Mutineer
1 wave Ballista
2 wave Assassin