Playing by the old client is not supported (old flash technology), so you play at your own risk. Officially, BB declared there would be no bans for playing in this way.
Discord TSO Client: https://discord.gg/NTvQVSPT3J
---
Portable Flash Client (install and play) – New version 1.5.6.2 – 22.04.2023
New option: Click on the top menu – Tools/Options, select the last script – Collectables, and click Submit.
Next click on the menu: Tools/Collections (Ctrl+F4), click and the items collect themselves. Ubicollect in this case is no longer needed.
---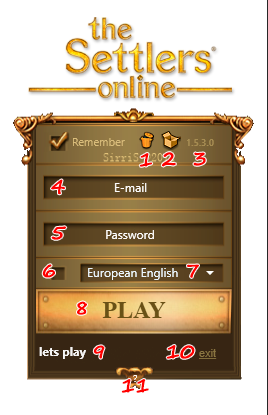 1. This button deletes a content of USERSCRIPTS folder inside tso_portable folder here: %localappdata%\tso_portable\Userscripts
2. This button opens the client's work folder (%localappdata%\tso_portable).
3. Version info
4. Login e-mail (normally your email, which is registered with your Ubisoft account)
5. Password
6. You need to check this box if you have maintenance earlier than in all other worlds (now, this is France realms). Note! Starting form version 1.5.4.4 checkbox does nothing, choice of correct cwf happens automatically.
7. 'Select' listbox – the list of available game worlds. Starting from version 1.5.4.4 you can choose test server as well. It is located at the bottom of the list. **Warning! ** Starting client on the test server overwrites client.swf in folder tso_portable. If you like to avoid this – use parameter –tsofolder (see detailed description below).
8. The button for start connection.
9. The info line with current status of client.
10. Exit from client
11. Press '?' to see all Startup parameters.
More information you can found on the wiki: https://github.com/fedorovvl/tso_client/wiki/Main-info