REQUIRED UNITS
VERSION I
VERSION II

7x
889 Recruit [-889]
66 Militia [-66]
1060 Cavalry [-1060]
200 Soldier [-200]
154 Elite Soldier

5x
889 Recruit [-889]
66 Militia [-66]
1000 Cavalry [-1000]
200 Soldier [-200]
154 Elite Soldier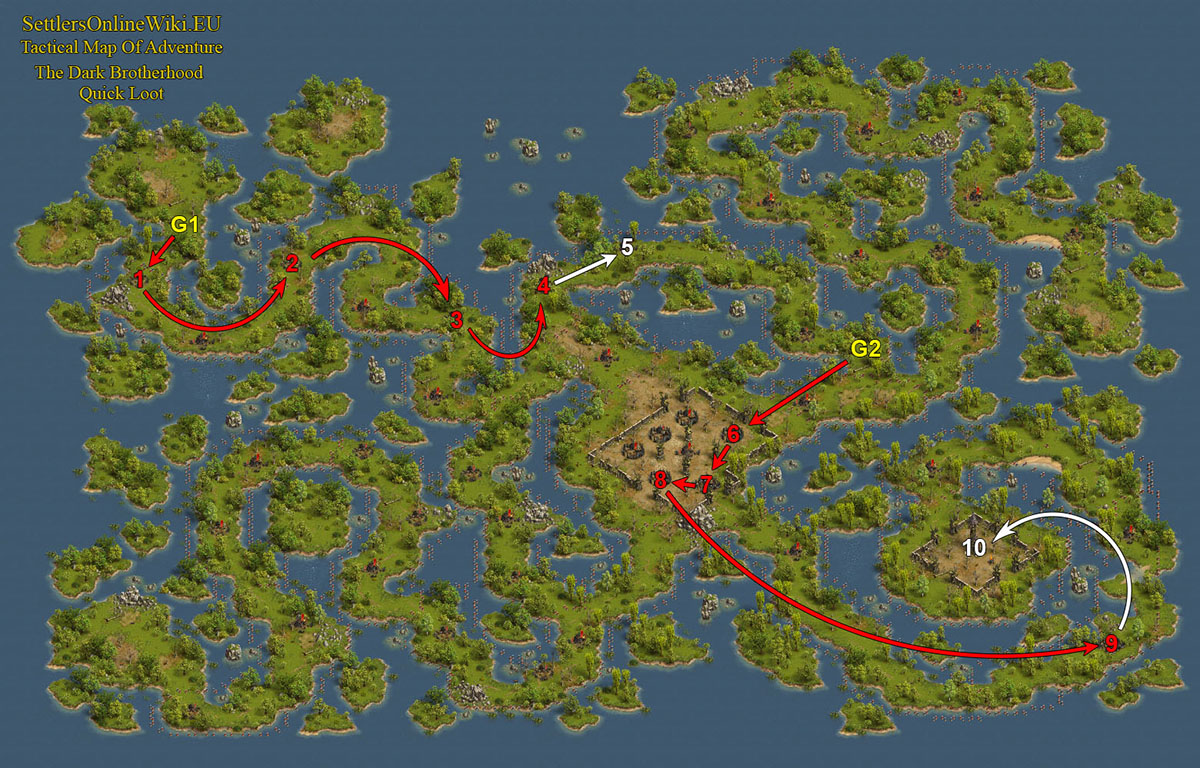 Guidance doesn't include achievements "Complete "The Dark Brotherhood" while losing fewer than 600 troops".
To pass this achievement, you should exchange adventure with someone, otherwise, we don't include this achievement.
In the sector G2 we can accommodate maximum 6 generals. Keep this in mind, because in the last attack we must send 7-8 waves..
Garrison
Camp
Enemy Units
Our Attacks
G1
1
100 Cultist, 100 Fanatic
1 wave (MMA) 90 Recruit, 130 Cavalry [losses: 90R]
G1
2
80 Cultist, 40 Shadowsneaker, 80 Fanatic
1 wave (MMA) 108 Recruit, 112 Elite Soldier [losses: 108R]
G1
3
200 Cultist
1 wave (MMA) 106 Recruit, 114 Elite Soldier [losses: 106R]
G1
4
200 Cultist
1 wave (MMA) 106 Recruit, 114 Elite Soldier [losses: 106R]
G1
5
120 Cultist, 80 Fanatic
1 wave (MMA) 81 Recruit, 1 Elite Soldier, 138 Cavalry [losses: 81R]
G2
6
75 Dark Priest, 125 Shadowsneaker
1 wave (MMA) 85 Recruit, 135 Elite Soldier [losses: 85R]
G2
7
50 Cultist, 100 Shadowsneaker, 50 Firedancer
1 wave (MMA) 84 Recruit, 136 Elite Soldier [losses: 84R]
G2
8
60 Cultist, 140 Dark Priest
1 wave (MMA) 131 Recruit, 1 Elite Soldier, 88 Cavalry [losses: 131R]
G2
9
66 Dark Priest, 66 Cultist, 66 Shadowsneaker
1 wave (MMA) 98 Recruit, 122 Elite Soldier [losses: 98R]
G2
10
2 Night Spawn,
66 Dancing Dervish,
66 Shadowsneaker,
66 Firedancer
1 wave (200) 200 Cavalry
2 wave (200) 200 Cavalry
3 wave (200) 200 Cavalry
4 wave (200) 200 Cavalry
5 wave (200) 200 Cavalry
6 wave (200) 60 Cavalry
7 wave (200) 200 Soldier
8 wave (MMA) 66 Militia, 154 Elite Soldier [losses: 1060C, 66M, 200S] or
1 wave (200) 200 Cavalry
2 wave (200) 200 Cavalry
3 wave (200) 200 Cavalry
4 wave (200) 200 Cavalry
5 wave (200) 200 Cavalry
6 wave (MMA) 200 Soldier
7 wave (MMA) 66 Militia, 154 Elite Soldier [losses: 1000C, 66M, 200S]