REQUIRED UNITS:
2x
325 Recruit [-325]
40 Elite Soldier [-35]
468 Bowman [-468]
100 Cavalry
180 Crossbowman
80 Cannoneer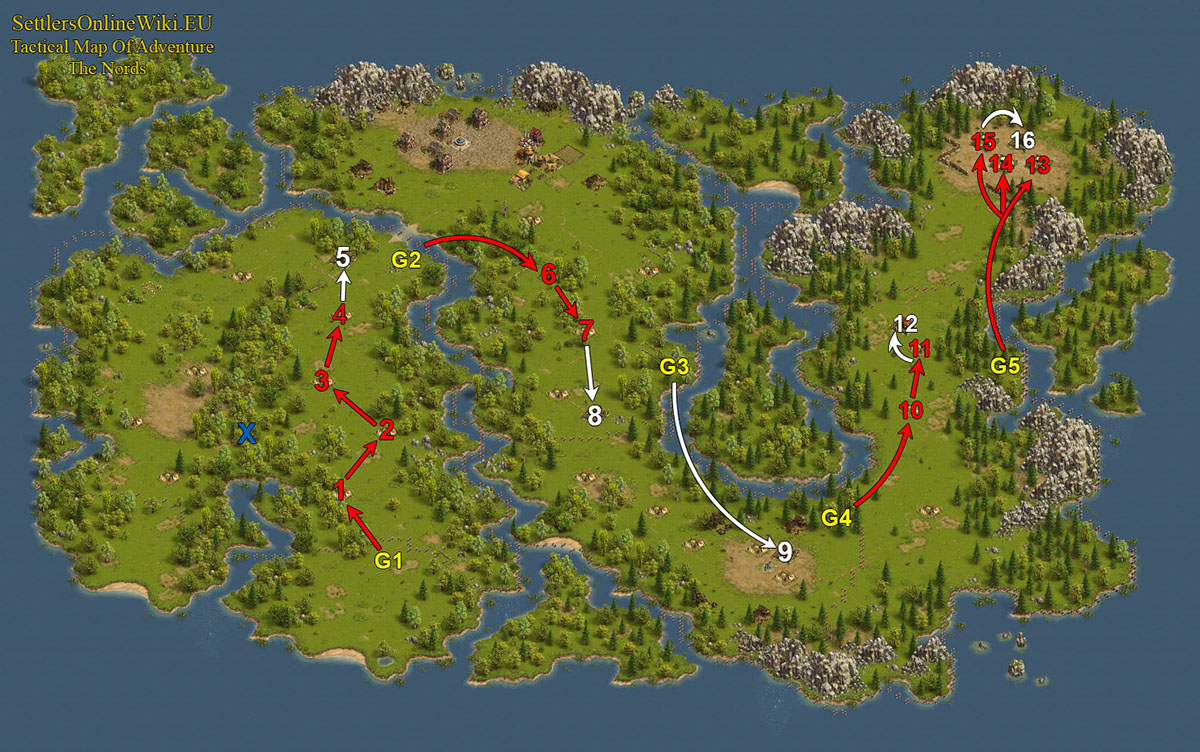 This is version when you get 4 tasks from Achievements (after passing the adventure, the system will pass all 4 tasks positively).
Attacking camp 3, we send General to camp 4 (General will be intercepted by camp 3). After winning the fight, we withdraw the General (otherwise, General will be intercepted by the trap).
Camps 8 and 9 are a combination of Camp and Leader Camp.

Garrison
Camp
Enemy Units
Our Attacks
G1
1
50 Valkyrie, 100 Karl
1 wave (BRS) 180 Crossbowman [losses: 0]
G1
2
75 Valkyrie, 50 Karl
1 wave (BRS) 10 Cavalry, 170 Crossbowman [losses: 0]
G1
3
50 Housecarl, 100 Thrall
1 wave (BRS) 40 Recruit, 140 Crossbowman [losses: 26R]
G1
4
50 Housecarl, 50 Thrall, 25 Valkyrie
1 wave (BRS) 180 Crossbowman [losses: 0]
G1
5
75 Housecarl, 5 Berserk, 50 Valkyrie
1 wave (BRS) 20 Bowman, 160 Crossbowman [losses: 5B]
G2
6
50 Housecarl, 75 Karl
1 wave (BRS) 40 Bowman, 140 Crossbowman [losses: 27B]
G2
7
50 Housecarl, 50 Valkyrie, 50 Karl
1 wave (BRS) 20 Bowman, 160 Crossbowman [losses: 2B]
G2
8
(50 Housecarl, 50 Valkyrie) +
100 Housecarl, 50 Valkyrie, 10 Jomviking
1 wave (BRS) 60 Recruit, 120 Crossbowman [losses: 46R]
G3
9
(75 Valkyrie) + (75 Housecarl) +
50 Housecarl, 15 Berserk, 50 Valkyrie, 20 Jomviking
1 wave (BRS) 20 Recruit, 160 Crossbowman [losses: 7R]
G4
10
75 Housecarl, 50 Karl
1 wave (BRS) 60 Recruit, 120 Crossbowman [losses: 53R]
G4
11
120 Housecarl
1 wave (BRS) 60 Recruit, 120 Crossbowman [losses: 53R]
G4
12
100 Housecarl, 15 Berserk, 50 Karl, 20 Jomviking
1 wave (200) 200 Bowman
2 wave (BRS) 80 Recruit, 100 Crossbowman [losses: 200B, 60R]
G5
13
150 Karl
1 wave (BRS) 180 Crossbowman [losses: 0]
G5
14
150 Housecarl
1 wave (BRS) 40 Bowman, 20 Elite Soldier, 120 Crossbowman [losses: 34B, 20ES]
G5
15
150 Valkyrie
1 wave (BRS) 100 Cavalry, 80 Cannoneer [losses: 0]
G5
16
120 Housecarl, 30 Berserk, 50 Jomviking
1 wave (200) 200 Bowman
2 wave (BRS) 80 Recruit, 20 Elite Soldier, 80 Crossbowman [losses: 200B, 80R, 15ES]