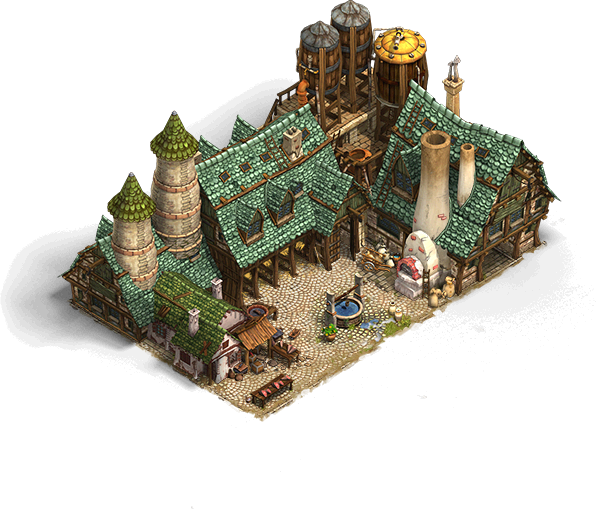 Player level: 58
Costs: Completion adventure chain "The Evil Queen"
Build time: 10 minutes

The Epic Farmyard provides 3 production slots. Player decides what kind of production will be active in each slot. Each slot can be configured in an individual way, hence it is possible to switch between different production chains. This flexibility allows you to adjust your production chains to your current needs. Of course it is also possible to leave a slot unassigned or just stop it's production.
Epic Workyard: Buffs
The productivity of Epic Workyard can be accelerated with special buffs. These buffs will affect all production chains that are assigned to 3 production slots.

Name: Fruits Of Hardship
Origin: Giant Battle Venture
Effect: Increase the production of Epic Farmyard about 3x 24 8 hours

Name: Chant of Focus
Cost: 99


Effect: Increase the production of Epic Farmyard about 3x for 8 hours
Name: Magic bean soup
Cost: 19


Effect: Increase the production of Epic Farmyard about 2x for 8 hours

Name: Master's Toolkit
Cost: 50

+ 4

+ 10

+ 6


Effect: Increase the production of Epic Farmyard about 2x for 6 hours

Production
Required Resources
Production
Production Time
Unlocking Cost
10
12:00 minutes
Completion adventure chain "The Evil Queen"

–
10
03:00 minutes
10
12:00 minutes
10
10
06:00 minutes
10 + 20
10
03:00 minutes
10 + 20
10
06:00 minutes
20 + 40
10
06:00 minutes
Production on Level
Level
Required Resources
Production
Production Time
1
10
10
12:00 minutes
2
20
20
12:00 minutes
3
30
30
12:00 minutes
4
40
40
12:00 minutes
5
50
50
12:00 minutes
6
60
60
12:00 minutes
1
–
10
03:00 minutes
2
–
20
03:00 minutes
3
–
30
03:00 minutes
4
–
40
03:00 minutes
5
–
50
03:00 minutes
6
–
60
03:00 minutes
1
10
12:00 minutes
2
20
12:00 minutes
3
30
12:00 minutes
4
40
12:00 minutes
5
50
12:00 minutes
6
60
12:00 minutes
1
10
10
06:00 minutes
2
20
20
06:00 minutes
3
30
30
06:00 minutes
4
40
40
06:00 minutes
5
50
50
06:00 minutes
6
60
60
06:00 minutes
1
10 + 20
10
03:00 minutes
2
20 + 40
20
03:00 minutes
3
30 + 60
30
03:00 minutes
4
40 + 80
40
03:00 minutes
5
50 + 100
50
03:00 minutes
6
60 + 100
60
03:00 minutes
1
10 + 20
10
06:00 minutes
2
20 + 40
20
06:00 minutes
3
30 + 60
30
06:00 minutes
4
40 + 80
40
06:00 minutes
5
50 + 100
50
06:00 minutes
6
60 + 100
60
06:00 minutes
1
20 + 40
10
06:00 minutes
2
40 + 80
20
06:00 minutes
3
60 + 120
30
06:00 minutes
4
80 + 160
40
06:00 minutes
5
100 + 200
50
06:00 minutes
6
120 + 200
60
06:00 minutes
Mission
Name
Description
Reward
Side
Main
The Epic Farmyard
The New Epic Well
Apply a Blueprint to unlock Epic Well rank 1
1.800
1.800
The Hunt For Blueprints
Complete the adventure The Fisherman And His Wife from "The Evil Queen" campaign
Complete the adventure Hansel And Gretel from "The Evil Queen" campaign
Complete the adventure Red Riding Hood from "The Evil Queen" campaign
Complete the adventure The Pied Piper From Hamelin from "The Evil Queen" campaign
Complete the adventure Snow White from "The Evil Queen" campaign
1.800