Start: 27.06.2013
End: 23.07.2013
Event consist in producing balloons in Provision House and their transfer through Mayor's House.
I PHASE
The first phase will last approx. 4 days.
This period can be used not only to learn how to get balloons, but also to win rewards.
Each game world has the same task: reach 100% as soon as possible.
The faster your game world reaches 100%, the more rewards you get.
It will be possible to track the current progress through a button below the avatar interface.
During the first phase of the event, each game world fights alone for its rewards.
Rewards for the first phase: Gems and Hired Troops. The amount of these rewards will depend on the performance of your game world (how fast it reaches 100%).
The first phase is needed to make sure the script responsible for calculating results is working properly and to make sure the competition is well balanced.
II PHASE
The balloons from the first phase will not be included in second phase results.
During the second phase of the event, certain game worlds will work together (results) in order to achieve a common goal and compete with servers that have stronger economies.
The goal is to reach high scores (percentage).
3 types of rewards that every game world can get: reaching 100%, 150% and 200%.
2 international rewards: the fastest game world and the game world that donated the most balloons during the second phase.

Rewards
Reaching 100%
Reaching 150%
Reaching 200%

100
10
Rewards for 100% +
200
20

Rewards for 100% + 150% +
300
30
2x
Additional Rewards
Fastest Server
Server that donated the most balloons
600
100
3x
2x
600
100
3x
2x

Retro Buffs For Buildings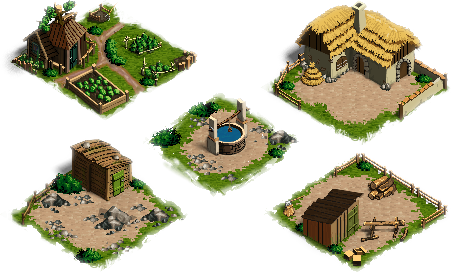 Settlers Headquarters
| | |
| --- | --- |
| Level | 1 |
| Appearance | |
| Build Time | 1.30 minutes |
| Population Limit | + 20 |
| Additional Features | Is used as a warehouse |
New Adventures
| | | | | | | |
| --- | --- | --- | --- | --- | --- | --- |
| Name | Appearance | Difficulty | Available Time | EXP | LVL | Full Description |
| Old Ruins | | 4/10 | 3 days | 5.340 | 26 | Enter |
| The Shaman | | 6/10 | 3 days | 14.960 | 26 | Enter |
| Hero Needed Immediately | | 1/10 | 2.5 days | 0 | 1 | Enter |
| Jester Island | | 1/10 | 2.5 days | 0 | 1 | Enter |
| New Experience | | 1/10 | 2.5 days | 0 | 1 | Enter |
| Nothing Special | | 1/10 | 2.5 days | 0 | 1 | Enter |
| Retro Style | | 1/10 | 2.5 days | 0 | 1 | Enter |