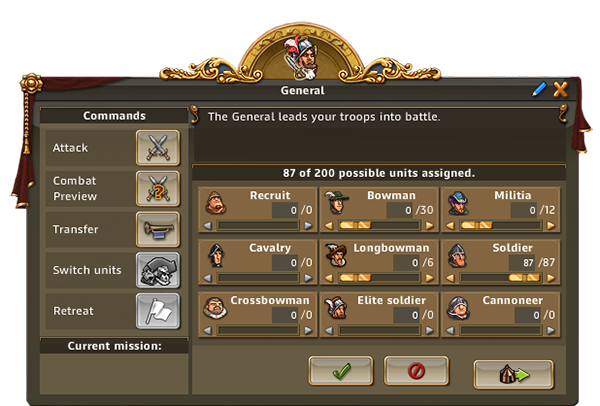 General used to attack the enemy camps. First, thanks to him we raise the island (for each destroyed camp experience points you get when all the regions will be conquered in order to gain more then experience points we need to make the adventure. Maximum you can recruit six generals in the tavern building. If we have more we can buy in the store for the gems. Addition to shop for gems can buy General, which can take 250 units instead of 200 as normal.
Remember that making adventure, we can transport the army with General, and then leave it on the island or reassigned to another General, which helps us to defeating camps and choosing the army.
In the game there are several types of generals who differ in the number of units that can take and several other features.
Appearance
General Name
Number Of Units
How To Get The General
Additional Features
Cost
Normal General
200
Available in Tavern
–
I: 100
II: 200
III: 500
IV: 2.000
V: 5.000
VI: 20.000
General Log
220
Available when you purchase the boxed version of the game.
Available from Merchant in Black Market section
Travels twice as quickly to adventures.
Recover twice as quickly from defeat.
2.795
Battle Hardened General
200
Available from Merchant in Black Market section
Travels twice as quickly to adventures.
Recover twice as quickly from defeat.
1.250
Veteran
250
Available from Merchant in Black Market section
Travels twice as quickly to adventures.
Recover twice as quickly from defeat.
4.999
General Bighelmet
200
Available during Christmas Event
Available from Merchant in Black Market section
Travels twice as quickly to adventures.
Recover twice as quickly from defeat.
1.495
General Grim Reaper
200
Available during Halloween Event
Travels twice as quickly to adventures.
Recover twice as quickly from defeat.
1.560
General Major
270
Available from Merchant in Epic Item section
Travels twice as quickly to adventures.
Recover twice as quickly from defeat.
10.000
General Quartermaster
1.000
Available from Merchant in Epic Item section
Travels twice as quickly to adventures.
Can't fight
20.000
Quartermasters Claus
1.000
Available during Christmas Event
Travels to adventures in two minutes
Return from adventures in 1.5 hours.
Amount of units increased to 1.000
Can't fight
695
Master Of Martial Arts
220
Available from Merchant in Black Market section.
Available during Easter Event
General recover twice as quickly from defeat
Travels twice as quickly to adventures
Skills: Splash Damage, First Strike,
Attack Weakest Target
6.999
4.595
Master Of Defense
200
Available from Merchant in Black Market section
General recover twice as quickly from defeat
Travels twice as quickly to adventures
Skills: Attacks Weakest Target,
Greatly Increased HP, Splash Damage
5.250
Lord Dracul
200
Available during Halloween Event
General recover twice as quickly from defeat
Travels twice as quickly to adventures
Skills: First Strike, Splash Damage
2.450
Champion Vargus
180
Available from Merchant in Black Market section
Available during Christmas Event
Travels twice as quickly to adventures.
Recover twice as quickly from defeat.
First Strike
Splash Damage
Intercept – enemy units deal 5% less damage and cannot attack your weakest units first.
6.999
–
Champion Nusala
165
Available from Merchant in Black Market section
Available during Christmas Event
Travels twice as quickly to adventures.
Recover twice as quickly from defeat.
First Strike
Attack Weakest Target
Splash Damage
Explosive Ammunition – assigned offensive units (bowman, longbowman, crossbowman, marksman, armored marksman) deal Splash Damage and Attack The Weakest Target First.
6.999
–
Champion Anslem
150
Available from Merchant in Black Market section
Available during Christmas Event
Travels twice as quickly to adventures.
Recover twice as quickly from defeat.
Attack Weakest Target
Splash Damage
Dazzle – reduces the accuracy of enemy units to 0%.
6.999
–
Name
Hitpoints
Damage
Accuracy
Attributes
General
1
120
80%
–
Battle Hardened General
1
120
80%
–
Grim Reaper
1
120
80%
–
General Bighelmet
1
120
80%
–
General Log
1
120
80%
–
Veteran
1
120
80%
–
Major
1
120
80%
–
Master Of Martial Arts
1
450 – 500
80%
Attack Weakest Target
Splash Damage
First Strike
Master Of Defense
5.000
25 – 50
80%
Attack Weakest Target
Splash Damage
Lord Dracul
999
111 – 333
77%
First Strike
Splash Damage
Champion Vargus
200
750-1.250
80%
First Strike
Splash Damage
Champion Nusala
150
1.000-1.500
90%
First Strike
Attack Weakest Target
Splash Damage
Champion Anslem
150
1.000-1.500
50%
Attack Weakest Target
Splash Damage