REQUIRED UNITS:
660 Swordsman [-635]
140 Armored Marksman
140 Mounted Marksman
REQUIRED SKILLS:

RES

First Aid 2/3


 Overrun 3/3


 Unstoppable Charge 3/3


 Battle Frenzy 3/3


 Garrison Annex 3/3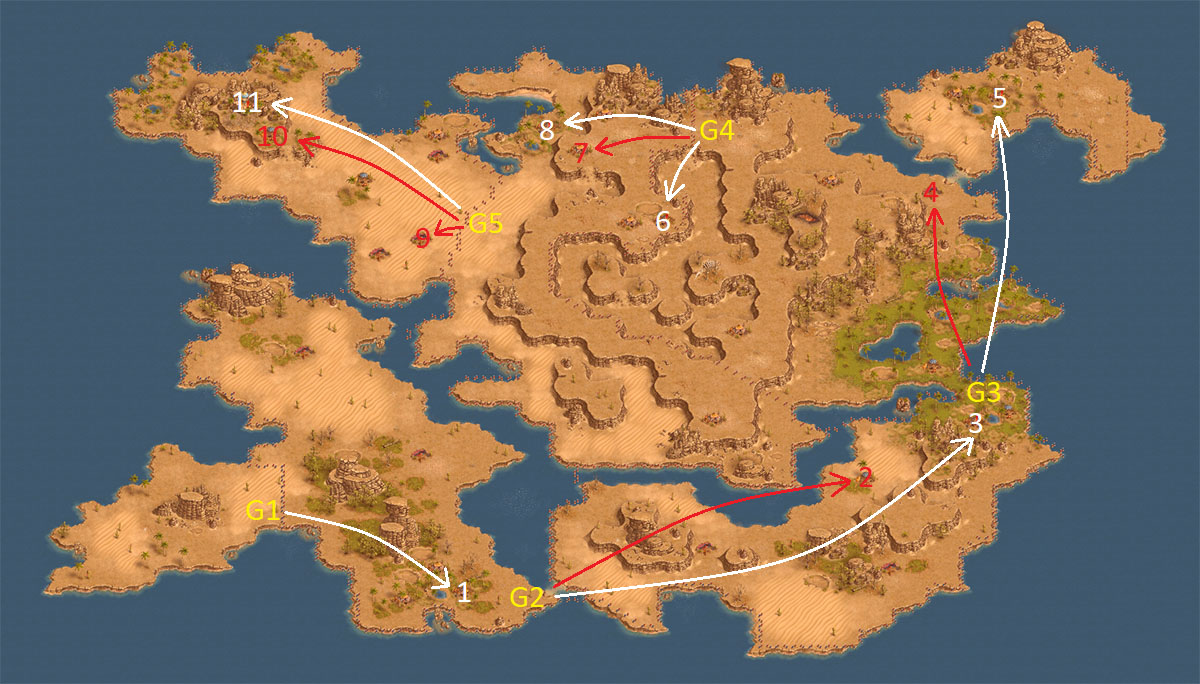 A guide create without a simulator, there is a possibility of losing the Swordsmen, although I did a few times and it did not happen. Currently, resolute general added in the simulator works incorrectly. I gave such skills because I want to make it a machine for more difficult adventures. I added a bounty hunter to star coins and -45% travel time.
Garrison
Camp
Enemy Units
Our Attacks
G1
1
180 Sword Wielder
+ 110 Desert Marksman, 100 Stone Cannon
+ 120 Horseman, 80 Desert Marksman, Shrewd Thief
1 wave (RES) 75 Swordsman, 140 Mounted Marksman [losses: 75S]
G2
2
80 Sword Wielder, 80 Mounted Bowman
+ 150 Sword Master
1 wave (RES) 75 Swordsman, 140 Mounted Marksman [losses: 75S]
G2
3
70 Horseman, 70 Sword Wielder, 50 Dune Marksman
+ 80 Horseman, 90 Dune Marksman, Greedy Thief
1 wave (RES) 115 Swordsman, 100 Mounted Marksman [losses: 115S]
G3
4
80 Mounted Bowman, 90 Sword Clasher
+ 70 Horseman, 70 Sword Wielder
1 wave (RES) 75 Swordsman, 140 Mounted Marksman [losses: 70S]
G3
5
90 Sword Clasher, 90 Stone Cannon
+ 80 Horseman, 80 Dune Marksman, Mysterious Thief
1 wave (RES) 75 Swordsman, 140 Mounted Marksman [losses: 35S]
G4
6
70 Mounted Bowman, 70 Desert Marksman
+ 90 Desert Marksman, 90 Horseman, Smart Thief
1 wave (RES) 75 Swordsman, 140 Mounted Marksman [losses: 45S]
G4
7
70 Sword Master, 60 Dune Marksman, 50 Horseman
1 wave (RES) 75 Swordsman, 140 Armored Marksman [losses: 60S]
G4
8
90 Sword Clasher, 80 Horseman, Treacherous Thief
1 wave (RES) 75 Swordsman, 140 Mounted Marksman [losses: 30S]
G5
9
20 Mounted Bowman, 90 Sword Wielder, 70 Horseman
1 wave (RES) 75 Swordsman, 70 Armored Marksman, 70 Mounted Marksman [losses: 45S]
G5
10
100 Desert Marksman, 100 Stone Cannon
+ 70 Sword Master, 40 Desert Marksman, 50 Sword Wielder
1 wave (RES) 75 Swordsman, 140 Mounted Marksman [losses: 35S]
G5
11
80 Horseman, 80 Stone Cannon, Bandit Lord
1 wave (RES) 75 Swordsman, 140 Mounted Marksman [losses: 50S]