REQUIRED UNITS:
3x
300 Swordsman [-153]
1.000 Mounted Swordsman [-809]
700 Knight [-537]
100 Marksman [-44]
400 Armored Marksman [-83]
500 Mounted Marksman [-55]
400 Besieger [-206]
REQUIRED SKILLS:

TB

Juggernaut 2/3


Rapid Fire 3/3


Sniper Training 3/3


Overrun 2/3


Unstoppable Charge 3/3


Battle Frenzy 2/3


Cleave 1/3


Weekly Maintenance 1/3


Garrison Annex 3/3


Master Planner 1/1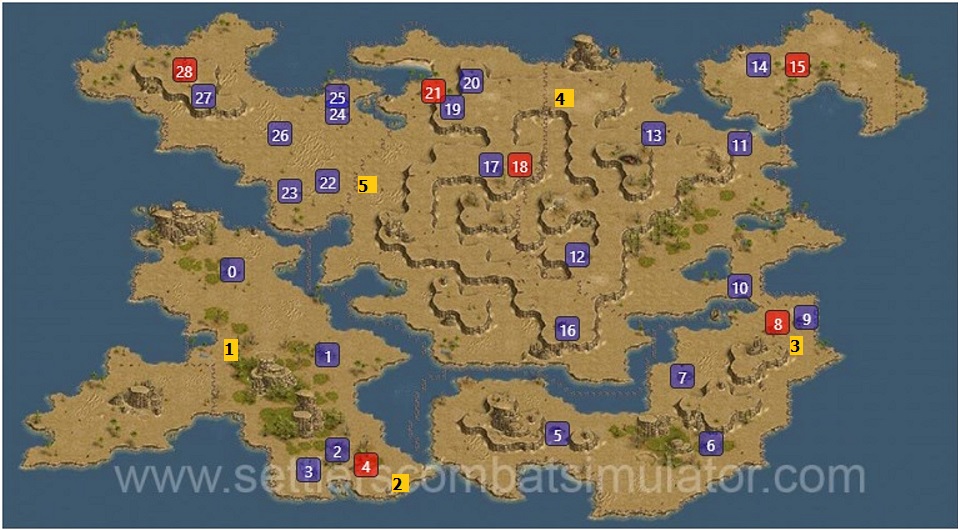 The Tremblebeard Chronicles: Can be run with a single Tremblebeard. I use 3, I'd use 4 if I had another. If you run 2 back to back you earn more star coins than the cost of a premium day. I can run 1 in 40 minutes, and have 4 troop suppliers loaded and ready to send in the 3.300 troops needed for each instance. If you're greedy, pace yourself, and have the population you can run 4 in 24 hours without missing a meal or sleep.
650-667 star coins and 650.447 to 668.591 experience points per instance is a good return on the investment. Losses are Average Max Losses, yours should be less. You don't have to hit every camp, but you're here for the EXP, why skip a camp?
Garrison
Camp
Enemy Units
Our Attacks
1
0 Optional
50 Horseman, 50 Dune Marksman
1 wave (TB) 20 Mounted Swordsman, 30 Knight, 50 Marksman, 50 Armored Marksman, 20 Mounted Marksman, 5 Besieger [losses: 19MS]
1
1 Optional
160 Mounted Bowman
1 wave (TB) 175 Swordsman [losses: 50S]
1
2
180 Sword Wielder
1 wave (TB) 50 Mounted Swordsman, 50 Mounted Marksman, 75 Besieger [losses: 44MS]
1
3
110 Desert Marksman, 100 Stone Cannon
1 wave (TB) 10 Mounted Swordsman, 30 Marksman, 10 Armored Marksman, 125 Mounted Marksman [losses: 10MS, 4M]
1
4
120 Horseman, 80 Desert Marksman, Shrewd Thief
1 wave (TB) 50 Mounted Swordsman, 120 Mounted Marksman, 5 Besieger [losses: 46MS]
2
5
80 Sword Wielder, 80 Mounted Bowman
1 wave (TB) 10 Mounted Swordsman, 70 Knight, 95 Besieger [losses: 10MS, 70K, 49BS]
2
6 Optional
90 Sword Clasher, 100 Desert Marksman
1 wave (TB) 175 Mounted Marksman [losses: 0]
2
7
150 Sword Master
1 wave (TB) 50 Mounted Swordsman, 125 Besieger [losses: 49MS]
2
9
70 Horseman, 70 Sword Wielder, 50 Dune Marksman
1 wave (TB) 60 Mounted Swordsman, 10 Knight, 105 Besieger [losses: 60MS, 10K, 104BS]
2
8
80 Horseman, 90 Dune Marksman, Greedy Thief
1 wave (TB) 30 Mounted Swordsman, 30 Knight, 30 Armored Marksman, 70 Mounted Marksman, 15 Besieger [losses: 28MS]
3
10
80 Mounted Bowman, 90 Sword Clasher
1 wave (TB) 20 Mounted Swordsman, 120 Knight, 35 Besieger [losses: 17MS, 67K]
3
11
70 Horseman, 70 Sword Wielder
1 wave (TB) 40 Mounted Swordsman, 50 Mounted Marksman, 85 Besieger [losses: 36MS]
3
12 Optional
50 Sword Wielder, 60 Horseman, 50 Desert Marksman
1 wave (TB) 30 Mounted Swordsman, 70 Knight, 75 Besieger [losses: 29MS, 59K]
3
16 Optional
80 Sword Wielder, 60 Horseman
1 wave (TB) 40 Mounted Swordsman, 30 Mounted Marksman, 105 Besieger [losses: 35MS]
3
13 Optional
60 Sword Master, 60 Horseman
1 wave (TB) 40 Mounted Swordsman, 50 Armored Marksman, 85 Mounted Marksman [losses: 35MS]
3
14
90 Sword Clasher, 90 Stone Cannon
1 wave (TB) 175 Mounted Marksman [losses: 0]
3
15
80 Horseman, 80 Dune Marksman, Mysterious Thief
1 wave (TB) 75 Mounted Swordsman, 100 Mounted Marksman [losses: 38MS]
4
20 Optional
90 Sword Wielder, 70 Mounted Bowman
1 wave (TB) 20 Mounted Swordsman, 100 Knight, 55 Besieger [losses: 16MS, 100K, 12BS]
4
19
70 Sword Master, 60 Dune Marksman, 50 Horseman
1 wave (TB) 80 Mounted Swordsman, 95 Armored Marksman [losses: 80MS, 13AM]
4
17
70 Mounted Bowman, 70 Desert Marksman
1 wave (TB) 10 Swordsman, 140 Knight, 25 Besieger [losses: 58K]
4
18
90 Desert Marksman, 90 Horseman, Smart Thief
1 wave (TB) 40 Mounted Swordsman, 10 Knight, 10 Armored Marksman, 110 Mounted Marksman, 5 Besieger [losses: 37MS]
4
21
90 Sword Clasher, 80 Horseman, Treacherous Thief
1 wave (TB) 50 Mounted Swordsman, 10 Knight, 10 Armored Marksman, 105 Mounted Marksman [losses: 35MS]
5
24 Optional
90 Desert Marksman, 90 Mounted Bowman
1 wave (TB) 10 Swordsman, 130 Knight, 35 Besieger [losses: 103K]
5
25 Optional
180 Sword Wielder
1 wave (TB) 50 Mounted Swordsman, 40 Mounted Marksman, 85 Besieger [losses: 45MS]
5
22
20 Mounted Bowman, 90 Sword Wielder, 70 Horseman
1 wave (TB) 60 Mounted Swordsman, 20 Marksman, 90 Armored Marksman, 5 Besieger [losses: 35MS]
5
23
70 Sword Wielder, 50 Dune Marksman, 60 Mounted Bowman
1 wave (TB) 10 Swordsman, 30 Mounted Swordsman, 50 Knight, 85 Besieger [losses: 10S, 30MS, 50K, 37BS]
5
26
100 Desert Marksman, 100 Stone Cannon
1 wave (TB) 20 Armored Marksman, 155 Mounted Marksman [losses: 0]
5
27
70 Sword Master, 40 Desert Marksman, 50 Sword Wielder
1 wave (TB) 40 Mounted Swordsman, 20 Knight, 30 Armored Marksman, 85 Besieger [losses: 35MS, 20K, 30AM, 4BS]
5
28
80 Horseman, 80 Stone Cannon, Bandit Lord
1 wave (TB) 40 Mounted Swordsman, 40 Marksman, 40 Armored Marksman, 55 Mounted Marksman
2 wave (TB) 175 Swordsman [losses: 93S, 40MS, 40M, 40AM, 55MM]