REQUIRED UNITS:
2.700 Swordsman [-2.574]
210 Mounted Marksman
REQUIRED SKILLS:

RES

Juggernaut 3/3


Overrun 3/3


Battle Frenzy 3/3


Garrison Annex 3/3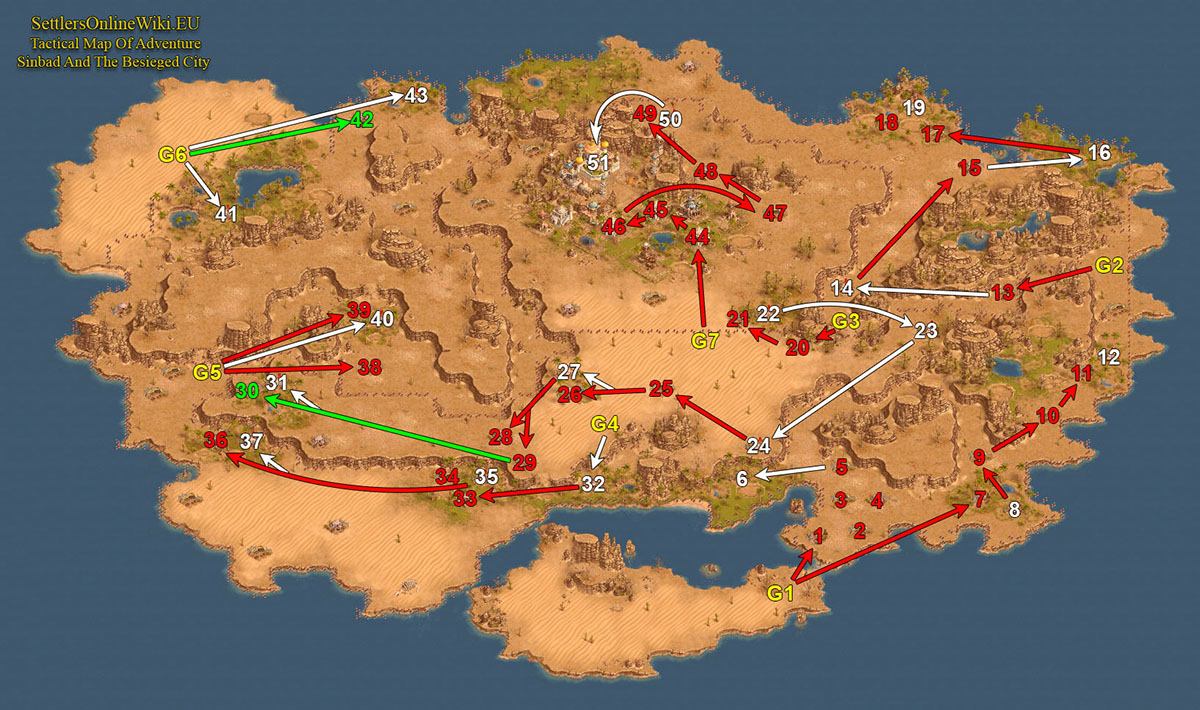 If the general has the first aid skill, the losses drop to about 2150-2180 Swordsman
Resolute general made for earning star coins 🙂
Attacking camp 46, send General to camp 51, General will be intercepted by camp 46. After winning the battle withdraw General. General's camp should be placed next to the rocks on the right.
| | | | |
| --- | --- | --- | --- |
| Garrison | Camp | Enemy Units | Our Attacks |
| G1 | 1 | 70 Battle Hardened Sailor, 70 Mounted Sailor, 70 Petty Officer | 1 wave (RES) 30 Swordsman, 185 Mounted Marksman [losses: 26S] |
| G1 | 2 | 200 Battle Hardened Sailor, 40 Mounted Sailor | 1 wave (RES) 50 Swordsman, 165 Mounted Marksman [losses: 36S] |
| G1 | 3 | 80 Sailor, 70 Petty Officer, 70 Cannon Master | 1 wave (RES) 10 Swordsman, 205 Mounted Marksman [losses: 0] |
| G1 | 4 | 70 Battle Hardened Sailor, 70 Mounted Sailor, 70 Boatswain, 40 Cannon Master | 1 wave (RES) 70 Swordsman, 145 Mounted Marksman [losses: 59S] |
| G1 | 5 | 110 Battle Hardened Sailor, 110 Mounted Sailor | 1 wave (RES) 60 Swordsman, 155 Mounted Marksman [losses: 54S] |
| G1 | 6 | 200 Mounted Sailor, 50 Petty Officer, Mutineer | 1 wave (RES) 80 Swordsman, 135 Mounted Marksman [losses: 78S] |
| G1 | 7 | 200 Petty Officer, 40 Sailor | 1 wave (RES) 20 Swordsman, 195 Mounted Marksman [losses: 0] |
| G1 | 8 | 200 Battle Hardened Sailor, 20 Petty Officer, Steersman | 1 wave (RES) 40 Swordsman, 175 Mounted Marksman [losses: 29S] |
| G1 | 9 | 270 Battle Hardened Sailor | 1 wave (RES) 40 Swordsman, 175 Mounted Marksman [losses: 36S] |
| G1 | 10 | 90 Battle Hardened Sailor, 50 Mounted Sailor, 90 Cannon Master | 1 wave (RES) 70 Swordsman, 145 Mounted Marksman [losses: 63S] |
| G1 | 11 | 100 Mounted Sailor, 70 Boatswain, 70 Cannon Master | 1 wave (RES) 40 Swordsman, 175 Mounted Marksman [losses: 32S] |
| G1 | 12 | 200 Battle Hardened Sailor, 70 Mounted Sailor, Steersman | 1 wave (RES) 80 Swordsman, 135 Mounted Marksman [losses: 79S] |
| G2 | 13 | 200 Boatswain, 30 Mounted Sailor, 30 Cannon Master | 1 wave (RES) 40 Swordsman, 175 Mounted Marksman [losses: 37S] |
| G2 | 14 | 100 Battle Hardened Sailor, 150 Sailor, Mutineer | 1 wave (RES) 80 Swordsman, 135 Mounted Marksman [losses: 72S] |
| G2 | 15 | 70 Battle Hardened Sailor, 90 Mounted Sailor, 70 Boatswain | 1 wave (RES) 50 Swordsman, 165 Mounted Marksman [losses: 47S] |
| G2 | 16 | 270 Petty Officer, Cannon Master | 1 wave (RES) 50 Swordsman, 165 Mounted Marksman [losses: 34S] |
| G2 | 17 | 150 Battle Hardened Sailor, 100 Petty Officer | 1 wave (RES) 30 Swordsman, 185 Mounted Marksman [losses: 24S] |
| G2 | 18 | 70 Battle Hardened Sailor, 60 Petty Officer, 70 Boatswain, 70 Cannon Master | 1 wave (RES) 60 Swordsman, 155 Mounted Marksman [losses: 50S] |
| G2 | 19 | 200 Mounted Sailor, 50 Cannon Master, Captain | 1 wave (RES) 80 Swordsman, 135 Mounted Marksman [losses: 70S] |
| G3 | 20 | 70 Battle Hardened Sailor, 70 Mounted Sailor, 70 Boatswain, 50 Sailor | 1 wave (RES) 60 Swordsman, 155 Mounted Marksman [losses: 55S] |
| G3 | 21 | 120 Battle Hardened Sailor, 150 Mounted Sailor | 1 wave (RES) 80 Swordsman, 135 Mounted Marksman [losses: 73S] |
| G3 | 22 | 50 Battle Hardened Sailor, 50 Mounted Sailor, 100 Petty Officer, Steersman | 1 wave (RES) 40 Swordsman, 175 Mounted Marksman [losses: 26S] |
| G3 | 23 | 260 Battle Hardened Sailor, Mutineer | 1 wave (RES) 110 Swordsman, 105 Mounted Marksman [losses: 99S] |
| G3 | 24 | 150 Mounted Sailor, 90 Cannon Master, Captain | 1 wave (RES) 70 Swordsman, 145 Mounted Marksman [losses: 62S] |
| G3 | 25 | 270 Sword Wielder | 1 wave (RES) 70 Swordsman, 145 Mounted Marksman [losses: 62S] |
| G3 | 26 | 270 Petty Officer | 1 wave (RES) 10 Swordsman, 205 Mounted Marksman [losses: 0] |
| G3 | 27 | 200 Battle Hardened Sailor, 50 Mounted Sailor, Captain | 1 wave (RES) 130 Swordsman, 85 Mounted Marksman [losses: 120S] |
| G3 | 28 | 200 Battle Hardened Sailor, 60 Boatswain | 1 wave (RES) 50 Swordsman, 165 Mounted Marksman [losses: 37S] |
| G3 | 29 | 200 Battle Hardened Sailor, 60 Mounted Sailor | 1 wave (RES) 50 Swordsman, 165 Mounted Marksman [losses: 46S] |
| G3 | 30 | 80 Battle Hardened Sailor, 90 Mounted Sailor, 80 Petty Officer | 1 wave (RES) 50 Swordsman, 165 Mounted Marksman [losses: 44S] |
| G3 | 31 | 260 Cannon Master, Mutineer | 1 wave (RES) 80 Swordsman, 135 Mounted Marksman [losses: 74S] |
| G4 | 32 | 250 Mounted Sailor, Steersman | 1 wave (RES) 70 Swordsman, 145 Mounted Marksman [losses: 63S] |
| G4 | 33 | 60 Battle Hardened Sailor, 60 Mounted Sailor, 60 Petty Officer, 60 Cannon Master | 1 wave (RES) 50 Swordsman, 165 Mounted Marksman [losses: 47S] |
| G4 | 34 | 120 Mounted Sailor, 120 Boatswain | 1 wave (RES) 50 Swordsman, 165 Mounted Marksman [losses: 44S] |
| G4 | 35 | 120 Battle Hardened Sailor, 120 Mounted Sailor, Captain | 1 wave (RES) 120 Swordsman, 95 Mounted Marksman [losses: 117S] |
| G4 | 36 | 90 Mounted Sailor, 80 Boatswain, 80 Sailor | 1 wave (RES) 40 Swordsman, 175 Mounted Marksman [losses: 32S] |
| G4 | 37 | 100 Battle Hardened Sailor, 120 Mounted Sailor, Mutineer | 1 wave (RES) 100 Swordsman, 115 Mounted Marksman [losses: 92S] |
| G5 | 38 | 120 Sailor, 120 Petty Officer | 1 wave (RES) 5 Swordsman, 210 Mounted Marksman [losses: 2S] |
| G5 | 39 | 120 Mounted Sailor, 120 Cannon Master | 1 wave (RES) 30 Swordsman, 185 Mounted Marksman [losses: 26S] |
| G5 | 40 | 250 Boatswain, Captain | 1 wave (RES) 70 Swordsman, 145 Mounted Marksman [losses: 65S] |
| G6 | 41 | 200 Battle Hardened Sailor, Steersman | 1 wave (RES) 30 Swordsman, 185 Mounted Marksman [losses: 25S] |
| G6 | 42 | 120 Boatswain, 100 Mounted Sailor | 1 wave (RES) 50 Swordsman, 165 Mounted Marksman [losses: 40S] |
| G6 | 43 | 100 Sailor, 120 Petty Officer, Mutineer | 1 wave (RES) 40 Swordsman, 175 Mounted Marksman [losses: 38S] |
| G7 | 44 | 70 Stick Wielding Ape, 50 Alpha Ape | 1 wave (RES) 5 Swordsman, 210 Mounted Marksman [losses: 4S] |
| G7 | 45 | 60 Stone Throwing Ape, 60 Alpha Ape | 1 wave (RES) 60 Swordsman, 155 Mounted Marksman [losses: 56S] |
| G7 | 46 | 80 Alpha Ape, 60 Nervous Ape | 1 wave (RES) 120 Swordsman, 95 Mounted Marksman [losses: 105S] |
| G7 | 47 | 100 Battle Hardened Sailor, 70 Mounted Sailor, 100 Boatswain | 1 wave (RES) 70 Swordsman, 145 Mounted Marksman [losses: 65S] |
| G7 | 48 | 130 Sailor, 130 Mounted Sailor | 1 wave (RES) 50 Swordsman, 165 Mounted Marksman [losses: 38S] |
| G7 | 49 | 200 Battle Hardened Sailor, 60 Petty Officer | 1 wave (RES) 30 Swordsman, 185 Mounted Marksman [losses: 26S] |
| G7 | 50 | 200 Sailor, 60 Petty Officer, Captain | 1 wave (RES) 60 Swordsman, 155 Mounted Marksman [losses: 52S] |
| G7 | 51 | 100 Nervous Ape, 80 Stick Wielding Ape | 1 wave (RES) 120 Swordsman, 95 Mounted Marksman [losses: 113S] |