REQUIRED UNITS:
111 Recruit [-110]
26 Militia [-24]
3 Soldier [-3]
REQUIRED SKILLS:

YGG

First Aid 3/3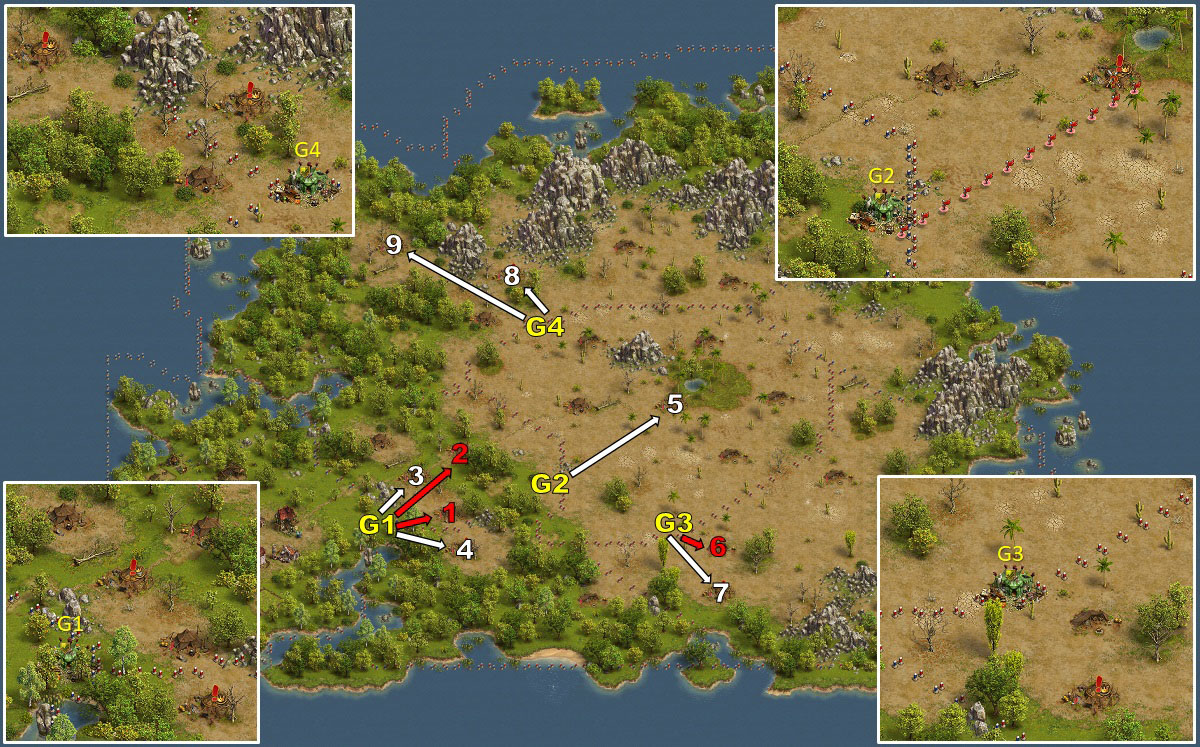 Designed for YGG with 140 unit capacity and without the need to bring more than 140 troops.
All losses are after First Aid recovery.
Total assigned units for all battles is more than 140 but there will be enough units from First Aid recovery as you battle through.
When attacking Leader Camp 9, a medium camp will intercept. YGG will take out that medium camp along his way.
| | | | |
| --- | --- | --- | --- |
| Garrison | Camp | Enemy Units | Our Attacks |
| G1 | 1 | 70 Nomad, 40 Lance Rider | 1 wave (YGG) 1 Recruit [losses: 0] |
| G1 | 2 | 40 Riding Amazonian, 70 Nomad | 1 wave (YGG) 7 Militia [losses: 6M] |
| G1 | 3 | 90 Riding Amazonian, 10 Uproarious Bull | 1 wave (YGG) 110 Recruit [losses: 100R] |
| G1 | 4 | 70 Nomad, 20 Cataphract | 1 wave (YGG) 1 Recruit [losses: 0] |
| G2 | 5 | 60 Nomad, 40 Lance Rider, 60 Composite Bow | 1 wave (YGG) 1 Recruit [losses: 0] |
| G3 | 6 | 30 Riding Amazonian, 40 Riding Bowman | 1 wave (YGG) 18 Militia [losses: 16M] |
| G3 | 7 | 60 Nomad, 75 Riding Bowman | 1 wave (YGG) 11 Recruit, 3 Militia, 3 Soldier [losses: 10R, 2M, 3S] |
| G4 | 8 | 90 Nomad, 90 Composite Bow | 1 wave (YGG) 1 Recruit [losses: 0] |
| G4 | 9 | 80 Lance Rider, 120 Composite Bow | 1 wave (YGG) 1 Recruit [losses: 0] |