REQUIRED UNITS
644 Recruit [-644]
240 Cavalry
40 Elite Soldier
200 Cannoneer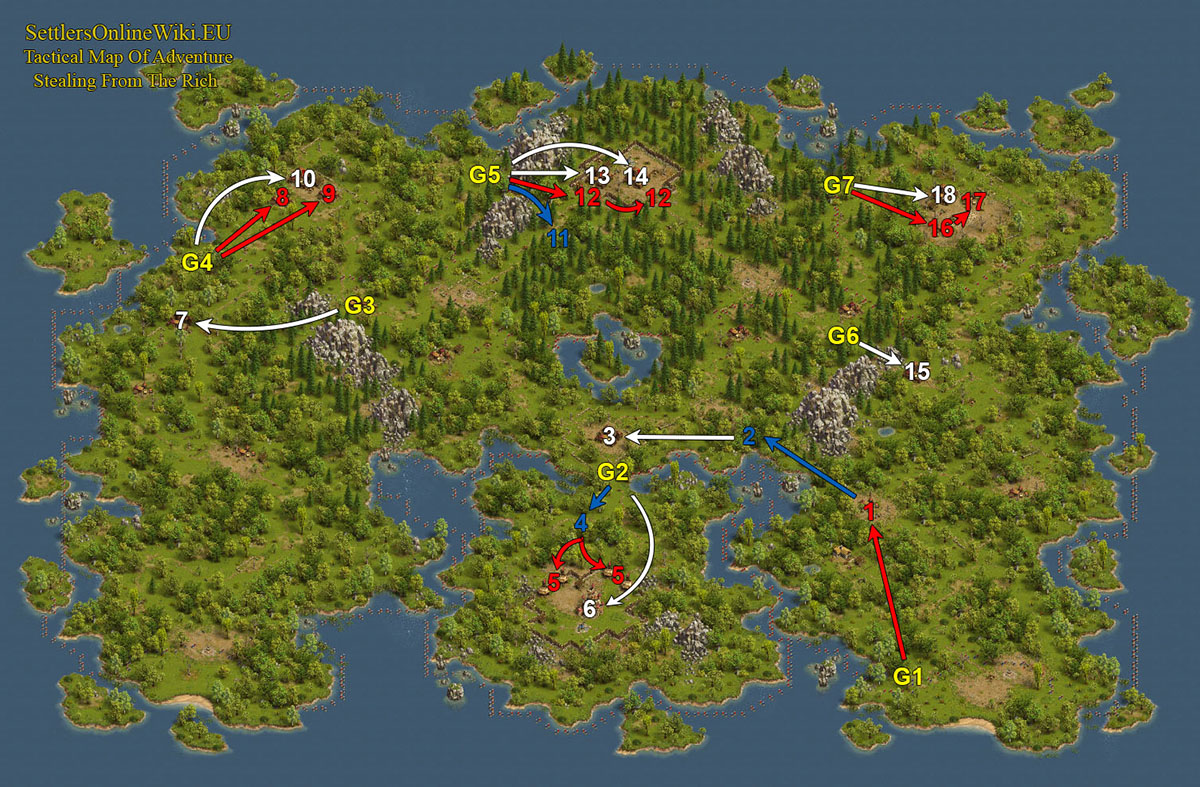 In the forest there are traps that we need to be careful.
Garrison G1 put as close to the left side of the border of the landing 1 on the island to avoid the trap.
On Towers 5 and 12 send 100 horses, all towers attacks one by one without suffering any loss.
General attacking camps 11 – 14 must pass through a narrow passage in the mountains. If it does not go that way, turn back him because he may have come across a trap.
| | | | |
| --- | --- | --- | --- |
| Garrison | Camp | Enemy Units | Our Attacks |
| G1 | 1 | 30 Recruit, 40 Bowman | 1 wave (250) 200 Cavalry [losses: 0] |
| G1 | 2 | 40 Wolf | 1 wave (250) 1 Recruit, 40 Elite Soldier [losses: 1R] |
| G1 | 3 | Sir Robin, 20 Elite Soldier, 20 Crossbowman, 20 Cannoneer | 1 wave (250) 75 Recruit, 175 Cannoneer [losses: 75R] |
| G2 | 4 | 200 Wolf | 1 wave (250) 14 Recruit, 200 Cannoneer [losses: 14R] |
| G2 | 5 | 15 Longbowman | 1 wave (250) 100 Cavalry [losses: 0] |
| G2 | 6 | Big Bertha, 50 Cavalry, 50 Longbowman, 50 Soldier | 1 wave (250) 105 Recruit, 145 Cannoneer [losses: 104R] |
| G3 | 7 | 85 Recruit, 65 Bowman | 1 wave (250) 26 Recruit, 1 Elite Soldier, 223 Cavalry [losses: 26R] |
| G4 | 8 | 40 Militia, 40 Longbowman | 1 wave (250) 11 Recruit, 1 Elite Soldier, 238 Cavalry [losses: 11R] |
| G4 | 9 | 20 Militia, 60 Longbowman | 1 wave (250) 240 Cavalry [losses: 0] |
| G4 | 10 | Sir Robin, 40 Militia, 40 Longbowman | 1 wave (250) 81 Recruit, 169 Cannoneer [losses: 80R] |
| G5 | 11 | 160 Wolf | 1 wave (250) 10 Recruit, 200 Cannoneer [losses: 10R] |
| G5 | 12 | 30 Longbowman | 1 wave (250) 100 Cavalry [losses: 0] |
| G5 | 13 | Sir Robin, 30 Cavalry, 40 Longbowman, 30 Soldier | 1 wave (250) 95 Recruit, 155 Cannoneer [losses: 95R] |
| G5 | 14 | Sir Robin, 50 Longbowman, 50 Soldier | 1 wave (250) 110 Recruit, 140 Cannoneer [losses: 110R] |
| G6 | 15 | 65 Recruit, 85 Bowman | 1 wave (250) 18 Recruit, 1 Elite Soldier, 231 Cavalry [losses: 18R] |
| G7 | 16 | 60 Militia, 20 Longbowman | 1 wave (250) 27 Recruit, 1 Elite Soldier, 222 Cavalry [losses: 27R] |
| G7 | 17 | 40 Militia, 40 Longbowman | 1 wave (250) 11 Recruit, 1 Elite Soldier, 238 Cavalry [losses: 11R] |
| G7 | 18 | Sir Robin, 40 Militia, 40 Cavalry | 1 wave (250) 58 Recruit, 192 Cannoneer [losses: 58R] |