REQUIRED UNITS:
690 Elite Soldier [-493]
REQUIRED SKILLS:

GHOST

Juggernaut 3/3


First Aid 3/3


Overrun 3/3


Unstoppable Charge 3/3


Battle Frenzy 2/3


Garrison Annex 3/3


Master Planner 1/1
REQUIRED RESOURCES
6.000

Quests in Adventure:
Mission Name
Mission Description
The Curse's Victims
Defeat or cure the inhabitants of all neglected jungles camps in any one sector
The Curse's Cure
Destroy two more jungle trees.
Own Mushromm Medicine Buff
Heal a neglected jungle camp by applying a dose of Mushroom Medicine
The Curse's Origin
Destroy El Chupacabra's Lair.
Buffs in Provision House:
Appearance
Name
Costs
Production Time
Provision House
Rarity Provision House
Mushroom Medicine
1.000 + 12 =

Level 1 – 05:00 minutes
Level 2 – 02:30 minutes
Level 3 – 01:40 minutes
Level 4 – 01:15 minutes
Level 5 – 01:00 minute
Level 6 – 00:50 seconds
Level 7 – 00:43 seconds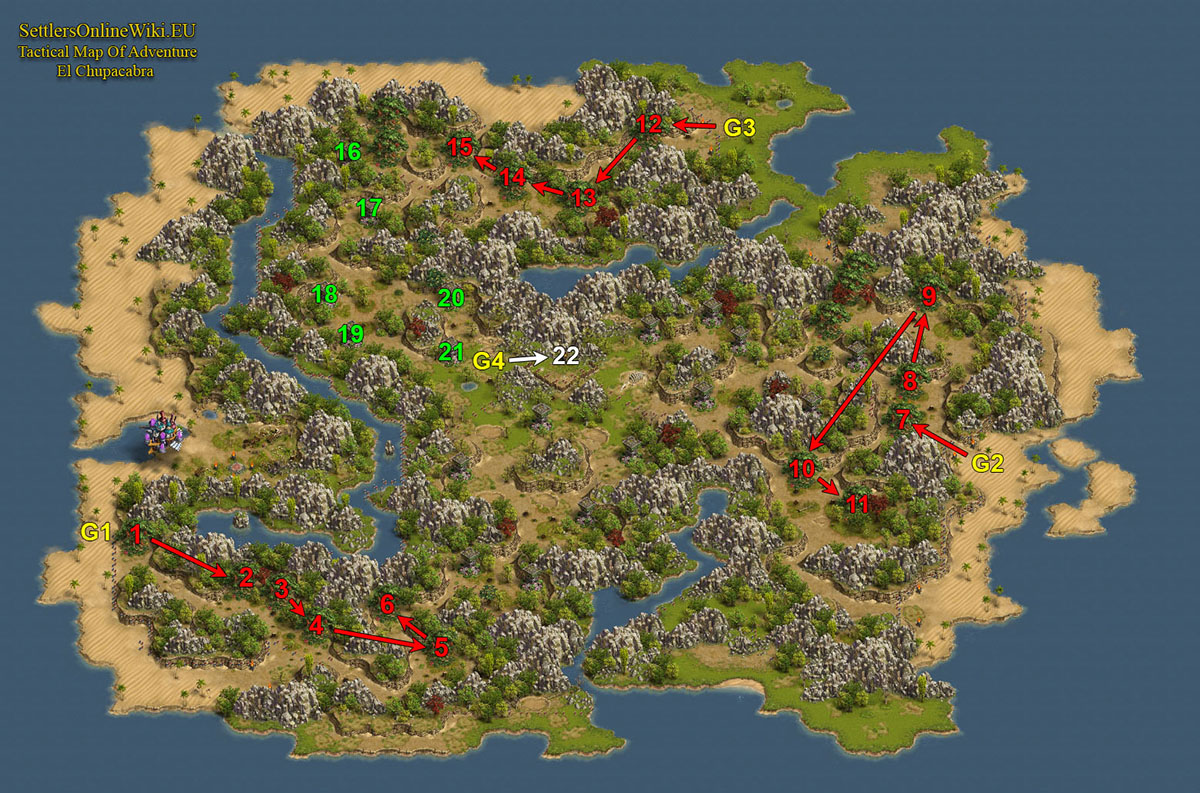 Send Ghost general (230 elites) G1 to camp 6. General will destroy camps on way.
Send Ghost general (230 elites) G2 to camp 11. General will destroy camps on way -NOTE- general might walk past camp 9 just send gen again with 230 elites to camp 9.
Send Ghost General (230 elites) G3 to camp 15. General will destroy camps on way.
IF YOU REQUIRE MORE STICKY MUSHROOMS
Send ghost general to other TREE CAMPS ONLY, not building camps.
Camps 16 TO 21 need mushroom medicine collected from the camps, then made in provision house or rarity house (6 needed) apply these before you move or attack camp 22.
Garrison
Camp
Enemy Units
Our Attacks
G1
1-6
20 Stick Wielding Ape, 20 Alpha Ape
+ 10 Stone Throwing Ape
+ 25 Stick Wielding Ape, 15 Alpha Ape
+ 25 Stick Wielding Ape
+ 25 Nervous Ape
+ 16 Stick Wielding Ape, 11 Alpha Ape, 10 Nervous Ape
1 wave (GHOST) 230 ELite Soldier [losses: 120ES]
G2
7-11
10 Nervous Ape
+ 25 Stick Wielding Ape, 15 Alpha Ape
+ 20 Alpha Ape, 15 Stick Wielding Ape
+ 10 Nervous Ape, 10 Alpha Ape, 5 Stick Wielding Ape, 10 Stone Throwing Ape
+ 20 Stick Wielding Ape
1 wave (GHOST) 230 ELite Soldier [losses: 120ES]
G3
12-15
20 Alpha Ape, 15 Stone Throwing Ape
+ 50 Stick Wielding Ape
+ 10 Alpha Ape, 10 Stick Wielding Ape, 10 Nervous Ape
+ 10 Stick Wielding Ape, 10 Stone Throwing Ape
1 wave (GHOST) 230 ELite Soldier [losses: 120ES]
G3
16-21
–
6x
G4
22
200 Wolf, El Chupacabra
1 wave (GHOST) 230 ELite Soldier [losses: 133ES]